What is a Pork Roll Egg and Cheese?
Also known as the 'Jersey Breakfast'. A meat and egg meal, topped with a slathering of melted cheese.
Proponents of the Pork Roll Egg and Cheese treat themselves not unlike prophets, in the sense that they all feel a direct obligation to carry the glory of this meal to the unenlightened.
Could the Pork Roll Egg and Cheese be the greatest paradox to the Kosher belief system? Could it be even further proof that the next savior of humankind will be composed of precooked meat?
Or else is it what the naysayers would claim it to be. That this is just a boring, greasy, unspecial egg sandwich, served with another variety of processed meat.
We find out with YET ANOTHER recipe article: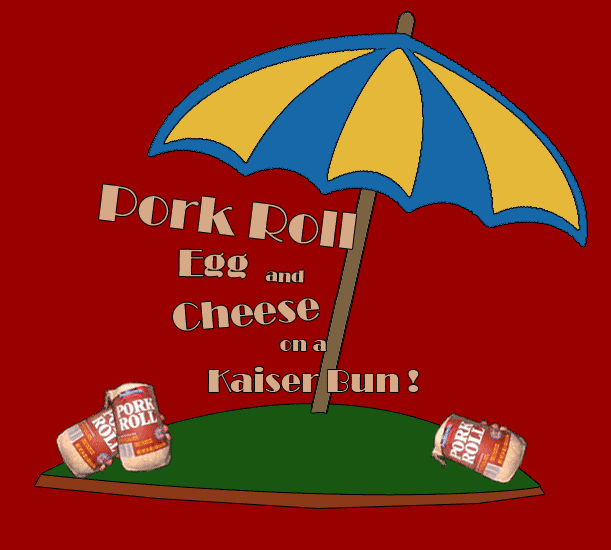 To crack this mystery, I first needed a roll of Pork Roll. One cannot make a Pork Roll sandwich without Pork Roll.
I have only found one place that will sell me Pork Roll: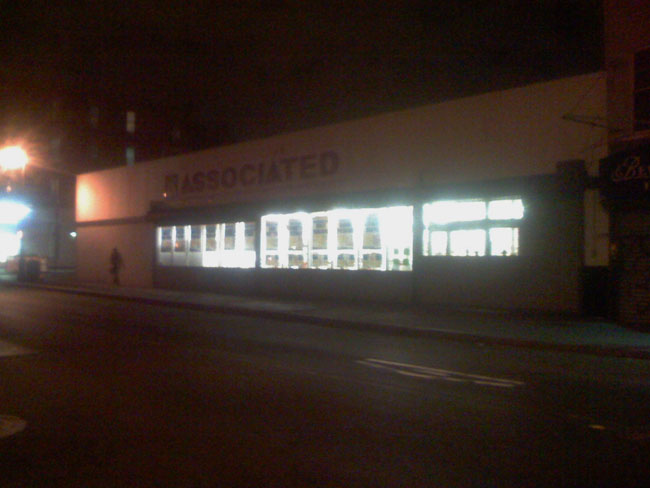 Associated.
Picture taken creepily at night because that is what it looks like to me when I get home. Closed, dark, unwelcoming, and blurry.
Associated is a fine store, but its clientele is primarily made up of the 'Day-Walkers' of Greenpoint, which means the store end up closing at the awful hour of 8pm.
Pork Roll is one of the strangest meat products ever concocted. A speckled pink tube of meatham, wrapped in brown cloth and sold by the tube.
The Pork Roll can be so many things at once. It is cheap, delicious, sliceable, and filling. The taste hits a mysterious place somewhere between bacon, ham, and bologna. It can be used as a meal, a snack, a trimming, or a novelty.
Pork + Salt + Sugar + Sodium Nitrate + Sodium Nitrite = ♥
On top of all this, the Pork Roll is freezable. So be sure to nuke it up good.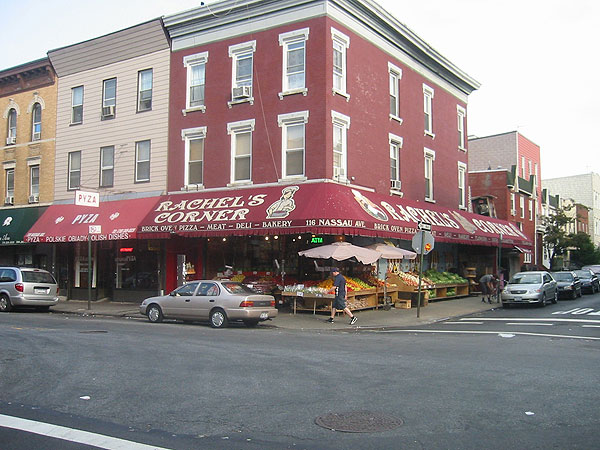 The eggs, cheese and Kaiser bun were bought at yon Rachel's Corner. A measly four blocks away.
Rachel's is a very good store. They sell eight varieties of olives and pickles by the pound until 2:00 am. I give Rachel's a whole thumbs up.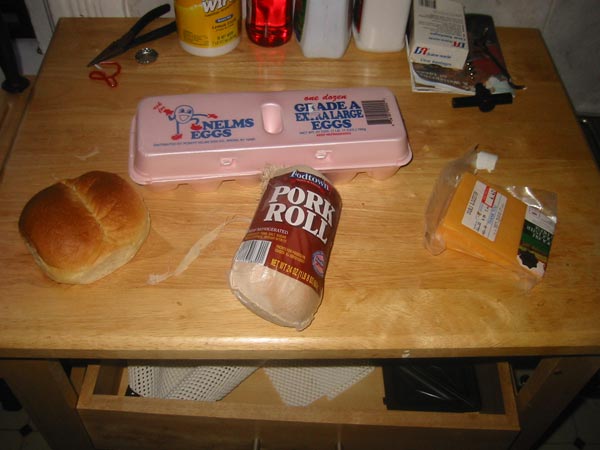 Rachel will sell rolls fresh out the oven at the crack of dawn. This particular roll was a youthful 18 hours old at this point. So Fresh!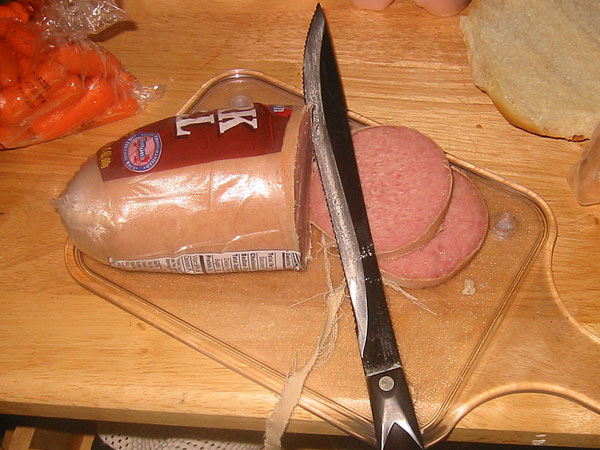 Slicing up the Pork Roll with the slicing knife. Be generous with the Pork Roll in this meal. It is our friend.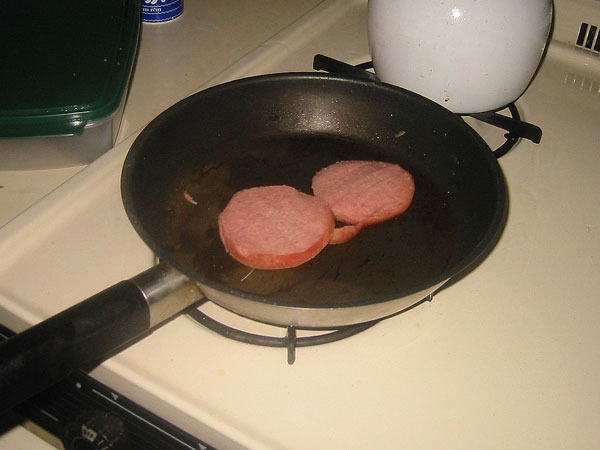 Sizzling the Pork Roll. Sizzled until its slapping hot.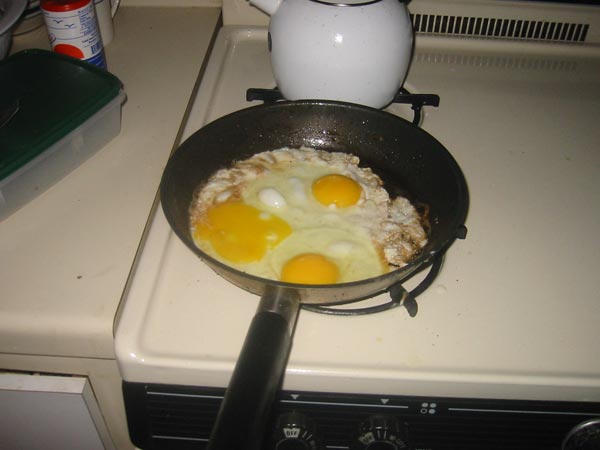 Add 3 eggs.
Pro Tip: Leave all the pork roll remains on the pan and just crack the eggs over them. because grease = flavor.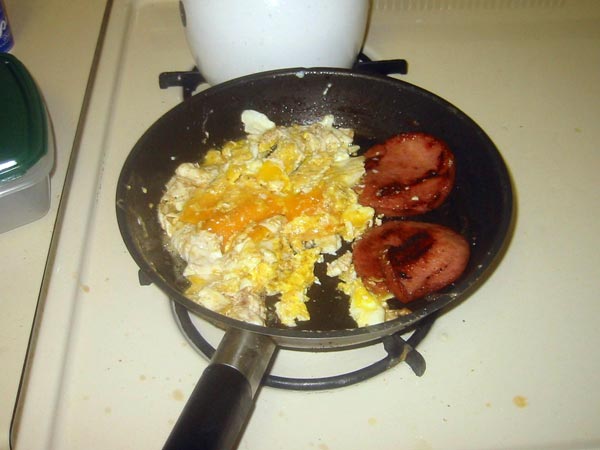 Remember. Always ALWAYS add too much cheese instead of too little. Cheese is delicious. Take this time to add any other 'things' you want in this meal. Black pepper, white pepper, celery salt, Tabasco, etc. Whatever you got, throw it in and cook it all up together all sloppy like.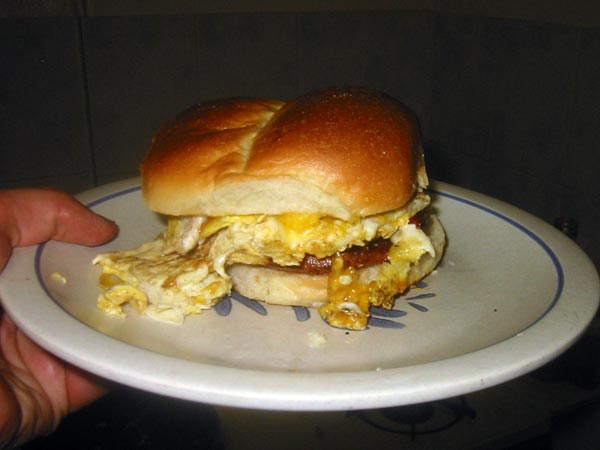 And there it is. A solid meal and a half, on a Kaiser Bun.
If you dare to add ketchup... don't. I would rather you to die in a fire than use ketchup on this meal. God I hate ketchup.
In Conclusion
The Pork Roll Egg and Cheese turned out to be a delicious, filling, quick to make sandwich, made with a hilarious ingredient with a catchy song to boot. How could one not love this sandwich??
Yeah for Pork Roll !!!